---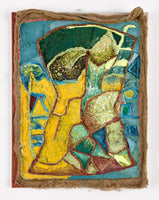 Untitled
Yevgeniya Baras
100 × 77 cm, oil, paper pulp and wood on burlap, 2018-2022
Yevgeniya Baras is an artist living and working in NY. She has exhibited her work at galleries including White Columns, NY; Nicelle Beauchene, NY; Reyes Finn Gallery, Detroit; Gavin Brown Enterprise, NY; Inman Gallery, Houston; Sperone Westwater Gallery, NY; Thomas Erben Gallery, NY; as well as internationally. She is represented by the Landing Gallery in LA and Sargent's Daughters in NY.

In 2022/2023 Yevgeniya will open her solo show in New York at Sargent's Daughters, and have her third solo at the Landing in LA.
Yevgeniya was named Senior Fulbright Scholar for 2022/2023. She was a recipient of the New York Foundation for the Arts Fellowship in 2021, Guggenheim Fellowship in 2019, the Pollock-Krasner grant and the Chinati Foundation Residency in 2018, and the Yaddo Residency in 2017. She received the Artadia Prize and was selected for the Sharpe-Walentas Studio Program and the MacDowell Colony residency in 2015. In 2014 she was named the recipient of the Rema Hort Mann Foundation's Emerging Artist Prize. Her work has been reviewed in the New York Times, LA Times, ArtForum, and Art in America.
Yevgeniya co-founded and co-curated Regina Rex Gallery on the Lower East Side of NY (2010-2018).
Yevgeniya holds a BA in Psychology and Fine Arts and an MA in Education from the University of Pennsylvania (2003) and an MFA in Painting and Drawing from the School of the Art Institute of Chicago (2007).
Yevgeniya teaches at Rhode Island School of Design.