---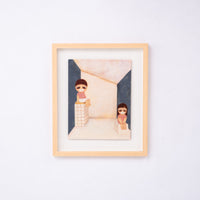 Proxemics 1
Jonathan Hadipranata
27.9 × 35.6 cm, acrylic on 300g canvas textured paper, 2021

"I was born on November 24th, 1995 in Surabaya, Indonesia (alongside my twin sister). I grew up in a Chinese family, my mother and father were the third generation of Chinese immigrants in Indonesia, which makes me the fourth generation.
When I was 17 years old, I decided to study abroad to finish my highschool degree. I went to a community college in a small suburb near Seattle in the US. They offer a high school completion program there. After finishing that program, I got my GED, and applied to an Art College. I went to Academy of Art University in San Francisco pursuing my BFA in Visual Development, in 2014. I spent almost 2 years there honing my foundational skills. Due to a sudden family issue, I had to drop out of University and return back to Indonesia to help my parents.
During my time back in Indonesia (which by this time, the year was 2016), while working helping my parents, I continued my art study through self-study and online masterclasses. Then in summer 2017, I decided to study Hospitality Management in Vancouver, Canada. I finished my diploma in early 2018 and was working full time in a hotel. By fall 2018, I returned back to Indonesia and worked full time in a five star Hotel in Jakarta. While working my career as a hotelier, I couldn't bring myself to enjoy the work, and kept thinking about art and missed doing it, which led to my decision to re-study art and start to paint again until I finally decided to give art another chance and quit my job in a Hotel which was finalized in early 2020 after working for a year and a half there. I then spent most of the year 2020 working through my concept and what I want to express in my paintings. Then I submitted my catalog proposal to Mr. Takano of Medel Gallery Shu and was given my first Solo Show opportunity in April 2021. The gallery is now representing me in Asia.
After my first Solo Show in Tokyo, I was then offered a solo exhibition in Korea with Aught in November 2021. Prior to my solo show in Korea, I also had the opportunity to participate in two group shows in Tokyo and London, as well as participate in my first art fairs 'ART TAIPEI' in Taipei, Taiwan with my represented gallery."